The best bars in London
February 14, 2018
The Little Blue Door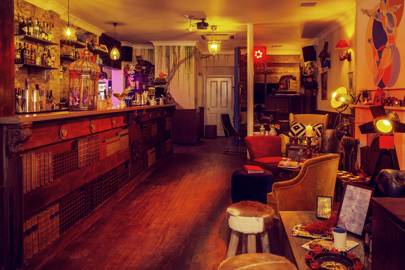 Tucked away behind an unassuming blue door in Fulham is a new bar that's changing the way we drink. Walk into the lobby area and you'll see what we mean – it feels just like walking into one of your best friend's homes, one that throws excellent house parties. Head into the 'sitting room', full of squashy sofas and colourful nick-nacks, where you can kick back with one of the delicious sharer cocktails – try the Little Miss Sunshine, which is Hendricks gin, St Germain, lime and apple juice, soda water and fresh basil and comes served in a flowery vase. Move through to the 'office' at the back, where you can play a round of pool and grab a bottle of prosecco from the vending machine, before ending up in the 'kitchen' (because every good house party ends up in the kitchen). Here you can snack on insanely delicious nibbles like home smoked panko fried chicken and truffle fondue mac 'n cheese, before ordering round after round of their frozen cocktails, which are served in miniature blenders. House parties will never be the same again.
Smoking Goat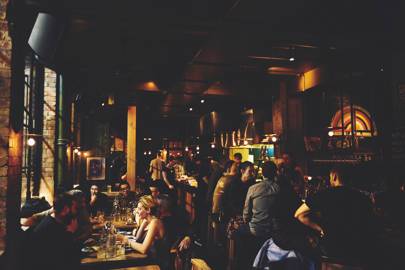 If you've never been backpacking in Thailand, then you've never experienced its mental, backpacker-filled streets, where everyone's cooking from huge, sizzling woks and serving out-of-this-world street food. But now you don't have to trek all the way to Thailand, because as soon as you walk into the Smoking Goat in Shoreditch you'll get a full-on blast of Asia. The food here, from chilli fish sauce wings to barbecue goat turmeric massaman, is authentic and hot (tell the waiter if you don't like spice and they'll tone it down for you), which means you should choose your drink wisely. For something refreshing, we recommend the rum, mint and lime or rhubarb and vermouth cocktail. For something with zing, try the fresh watermelon and chilli – but don't be ashamed to ask for a side of pineapple juice, because even the hardiest of spice lovers get given cooling handouts here.
Tea Room at Bun House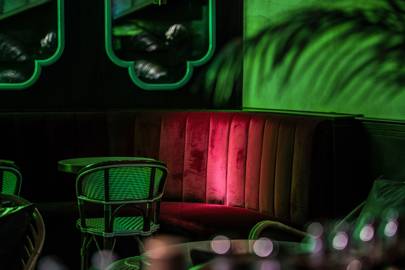 As every bar in the capital these days seems to be made of chrome with one too many filament bulbs, it's hard to find something exciting and new. But head to the corner of Greek Street and you'll discover Tea Room at Bun House. It's divided into two separate areas – Bun House, at street level, is a Cantonese restaurant serving perfectly steamed fluffy buns, but enter a side door and you'll find a subterranean tea room. It's dark, with big, luminous Chinese symbols hanging on the walls, glowing red and green. Sixties Chinese music plays overhead and people sit in enormous wicker chairs with pots of infused tea bubbling at their tables. Everything feels authentic, including the menu, which is printed like a newspaper and explains some of the more unusual Chinese spirits and liqueurs – like baijiu, which is distilled from a grassy grain and not for the faint-hearted. If you don't like overpowering spirits, we recommend the jasmine and salted-lime cocktail, which is made with Du Kang laojiu, jasmine Willem Barentsz gin, Young Master salted-lime beer, jasmine syrup and fresh jasmine. Delightfully different, it gets a big thumbs-up from us.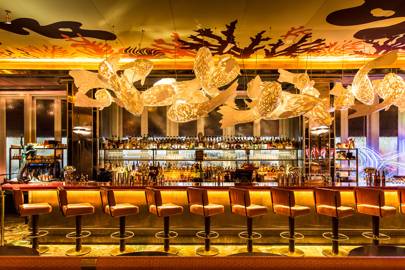 We've all been there – it's Friday night and you're in your pyjamas by 6pm, watching Sex and the City. Carrie's wearing a sparkly dress and heading to a hot new opening, and suddenly you start to wonder where it all went wrong. Well, if Carrie lived in London, she'd spend her Friday nights at Sexy Fish, because the popular restaurant on Berkeley Square is sleek and shiny, with a glitzy New York edge. The interiors are brilliantly over the top, with huge fish lamps suspended above the bar, a wall of cascading water and winking fish emblazoned on the backs of the waiters' red-velvet jackets. The guests are just as glamorous, dressed head to toe in designer labels (the people-watching possibilities are endless). Everyone tends to stay on after dinner (there's a DJ later on), giving you plenty of time to work your way through the impressive cocktail menu. Start with a Porn Star, made with fresh passion-fruit juice, and end with Soupe du Jour – Nikka whisky from the barrel, miso, honey, tropical tea syrup, Italicus Rosolio di Bergamotto, citrus and Picon Amer, topped with Sichuan blossom. It'll blow your socks off.